Are you looking to give your ride a unique new look? If so, car vinyl wrapping in New Jersey is the perfect way to do it. Car vinyl wrapping is the complete transformation of a car's appearance with the use of high-quality, computer-cut vinyl. Unlike a paint job, vinyl wrap is designed to be both removable and customizable. With absolute control over your vehicle's look, car vinyl wrap gives you the ultimate personalization of your ride.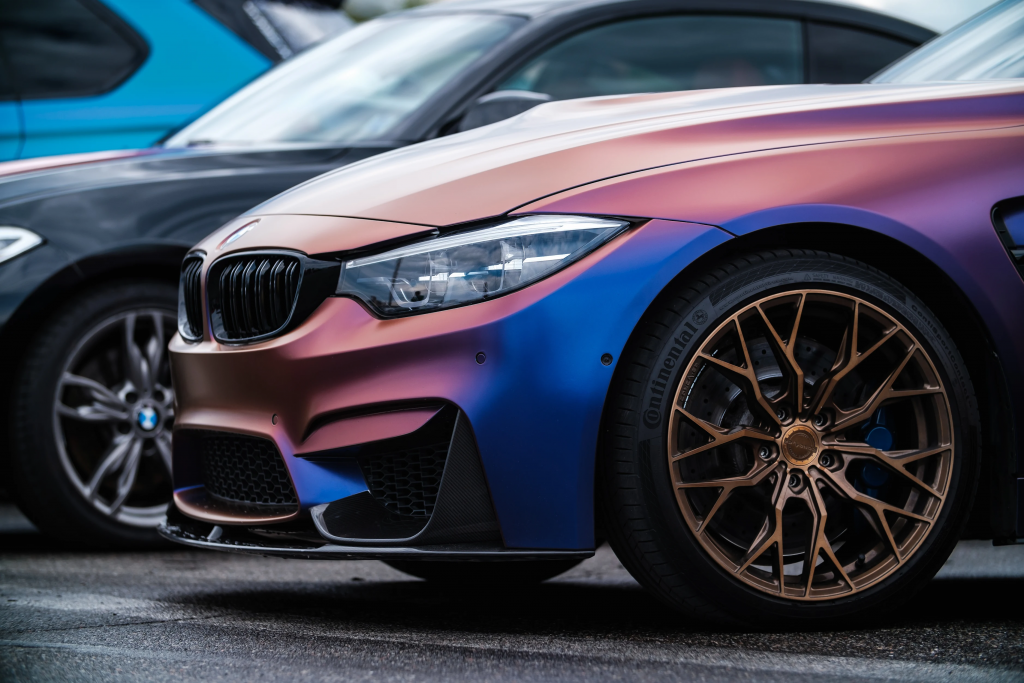 Contents of the Article
From partial wraps to full wraps, covering a vehicle in vinyl offers simple and affordable alternatives to the often-expensive process of traditional painting. With vinyl wraps, you can customize the look of your car with unique graphics, vibrant wraps, and a wide-variety of colors. It truly allows you to transform your vehicle however you want it. Here's everything you should know about car vinyl wrap in New Jersey.
Popular Ways to Use Car Vinyl Wrap
From sports teams to solid colors, car vinyl wraps can be easily used to customize any vehicle. Here are some of the most popular uses of car vinyl wraps in New Jersey:
Printed Graphics: Do you want to show your team pride? You can wrap your vehicle in a special team graphic that looks like you just bought it from the dealership. Printed graphics for car vinyl wrapping are especially popular for those wanting to match a sports team, school, or companies brand.
Solid Colors: You can also use car vinyl wrap in New Jersey to transform your car into any solid color you want. With premium vinyl wrap, there are so many vibrant shades to choose from, so you can stick with a classic or get creative with the hue. There are even pearlescent, chrome, or matte colored wraps you can use if you're looking for something different.
Partial Wraps: Not interested in a full vehicle wrap? Partial wraps are perfect for those wanting to focus on certain areas of their ride. With partial car vinyl wrap in New Jersey, you can choose to wrap only your hood, roof, doors, or mirrors. Customize your vehicle to fit your creative vision and make it really stand out.
What to Know About the Vehicle Vinyl Wrap Process
Before you decide to wrap your vehicle with car vinyl wrap in New Jersey, there are a few things you should know about the process. Here's how vehicle vinyl wrapping works:
Prep Work: Before applying any vinyl wrap, the vehicle must be prepped. This involves cleaning and detailing the entire exterior of the car to create a smooth surface as a foundation for the wrap.
Design and Cut: Once the vehicle is prepped, the design for the vinyl wrap is then cut and printed in the exact size of the vehicle's exterior. The design for the vinyl wrap is usually created by a specialist in computer-aided design.
Application: Now the wrap is ready to be applied. It starts with small sections of the vinyl wrap that are applied from the top of the vehicle and then slowly wrapped around the rest of its exterior.
Activation: After the vinyl wrap is applied, it needs to be stretched and activated to ensure it is completely sealed and adhered to the vehicle's exterior. This is done by using a small heated tool to ensure the wrap is completely activated and won't peel off of its surface.
Why Choose Car Vinyl Wrap in New Jersey
Choosing to wrap your vehicle can be a daunting process. But, once you understand the incredible benefits of car vinyl wrapping in New Jersey, you'll realize why it's worth the investment. Here are some of the top reasons why you should opt for a car vinyl wrap:
Cost-Effective: Compared to traditional paint jobs, car vinyl wraps are more economical and cost-effective. Vehicle vinyl wrapping is also significantly faster to install. Plus, if something happens to your wrap, it's easy to replace at a fraction of the price.
Easy Removal: One of the top things to consider when selecting a car wrap is how easily it can be removed. If you ever decide to remove your wrap, most quality brands can easily be peeled off the car's exterior with no adhesive residue left behind. Plus, the car's original paint is still intact underneath.
Durability: With proper care and maintenance, vinyl wraps can last an average of five to seven years. That's quite a long durability rate compared to traditional paint jobs that can easily chip or fade over time. Vehicle vinyl wrap also provides a protective layer of resistance to your ride's paint and acts as a shield against the various elements it may face.
Final words
Are you ready to give your vehicle an exciting new look? With car vinyl wraps in New Jersey, you can customize your ride with one of the most creative and cost-effective options around. From vibrant colors and printed graphics to partial wraps and full wraps, there are endless possibilities for your car's transformation. Investing in vinyl wrap for your vehicle is a great way to create a unique look that expresses your style, and also offers much more protection than a traditional paint job. So, if you're looking to improve the exterior appearance of your ride, contact a professional in vinyl wrap today.