When you drive around, you probably take notice of the different types of car wraps popping up in the streets of New Jersey. With vibrant colors and creative designs that are unprecedented in terms of automotive customization, car owners in New Jersey have been utilizing car wraps for decades now as a way to stylize their vehicles and stand out from the crowd.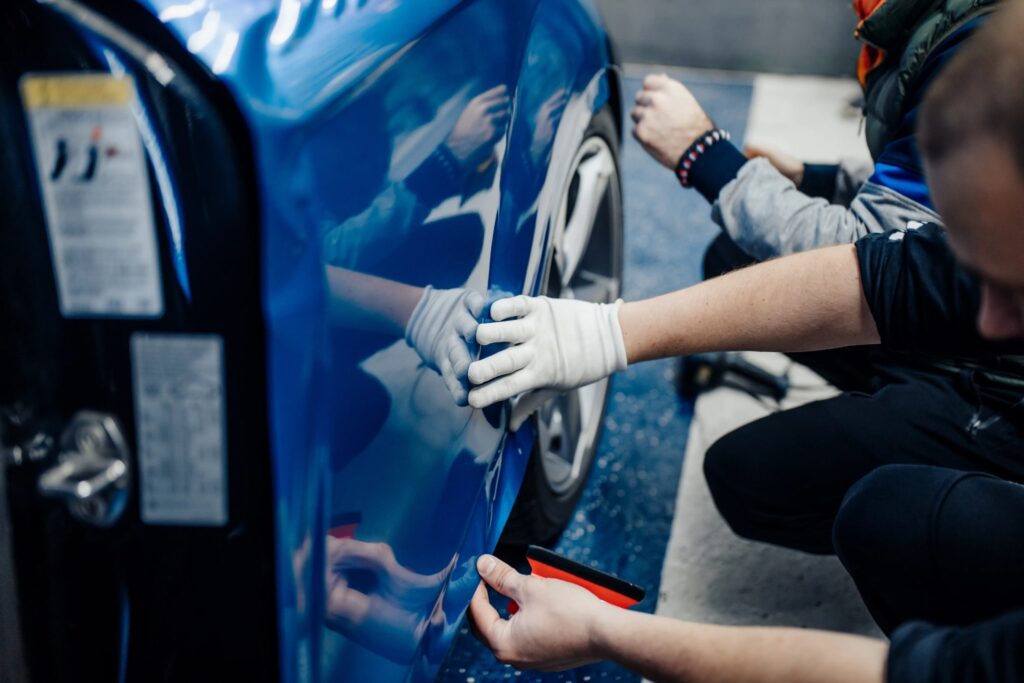 Perhaps you're interested in investing in a car wrap for yourself. After all, a car wrap has several advantages over traditional vehicle customization options such as painting. In this article, we'll take a look at car wraps and the art of applying them properly and to the best effect.
Contents of the Article
What Is A Car Wrap?
Simply put, a car wrap is a large piece of vinyl with a color or pattern that is applied directly to the car's body. Car wraps come in various types of material including vinyls that are specifically formulated to be used on cars. Car wraps have been around since the 1920s when this type of car customization option was first utilized for commercial advertising. Since then, car wraps have become popular among car owners wishing to add their own style to their vehicle.
Benefits Of Car Wraps
The beauty of car wraps is that they are more affordable, easier to install and more conveniently removed than traditional car paints. With a car wrap, you can change up the color of your car without having to do anything too costly like repainting it. Depending on how often you frequent car wrap shops, these wraps can last anywhere between 3 to 8 years without the need for maintenance.
This kind of investment should be taken into consideration by anyone looking to customize the look of their car quickly and without breaking the bank.
The Process Of Applying A Car Wrap
The installation of a car wrap is a complex process that requires the professional skills of a car wrap specialist. Additionally, it is important that the surface of the car body is clear from any dirt or dust before the car wrap is applied, as it will have a direct effect on the longevity of the wrap itself.
Once the surface is clean, the car wrap specialist will apply the vinyl wrap to the car body, beginning from the back and working their way towards the front. It is important that the car wrap specialist takes their time and makes sure all edges are properly smoothened. In order to ensure an optimal result, this process takes about 6 to 8 hours for a full car wrap job.
Customization Possibilities
The possibilities of styling your car through car wraps are almost endless. From flashy cars covered in a glossy layer of chrome vinyl wrap, to eye-catching car wraps that display a mix of colors and patterns, using a car wrap allows owners to truly customize their vehicle according to their own personal style.
Moreover, car wraps offer car owners a great opportunity to advertise their business or service. With a unique car wrap, your company's logo and message can be seen by drivers and pedestrians alike, creating an effective and affordable way to reach potential clients.
Maintenance Tips
Once you've had a car wrap installed, you will have to keep up with maintenance in order to maintain its overall look. This involves regularly washing the car to keep it free of dust and dirt particles as well as waxing the car to make sure that the vinyl wrap is permanently bonded to the car body.
Alternatively, you can also buy car wrap sealants that are specially formulated to protect the vinyl wrap itself. These sealants act as a protective layer between the car body and the vinyl wrap, thus ensuring that the car wrap remains intact.
Car wraps may also require a periodic check-up in order to extend its lifespan and make sure that there is no damage to the vinyl wrap. In the event of damage, it is important that you call a car wrap specialist immediately to avoid any long-term damage.
In Conclusion
When it comes to adding a personal touch to your car, the art of car wrapping in New Jersey offers a fantastic and relatively inexpensive way to customize your vehicle. With the wide array of customization possibilities that you can achieve with car wraps, you can be sure to stand out from the crowd and display your own unique style through your car.
From the basic maintenance and upkeep of your car wrap to the complex process of applying the wrap itself, car wraps offer car owners a great way to customize their vehicles and provide an effective advertising opportunity while they are at it. So, if you are looking to stylize your car and add a personal touch to it, investing in a car wrap could be just the thing for you.